Our noon conference teaching is based on a 3-year rolling curriculum that covers a broad range of internal medicine topics. Typically these lectures are given by invited guest speakers, residents, attendings and subspecialists within the medical community. Lectures are broadcast to other clinical sites.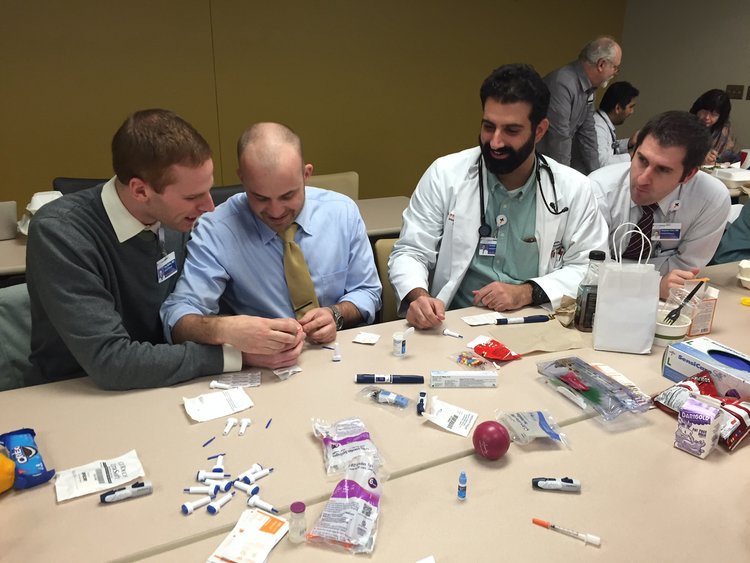 Acute Care Conference Series
Lectures take place during the first 3 months of the academic year. These case-based lectures are designed to help interns recognize/manage common emergent situations in internal medicine.
EXAMPLES:
Calls in the middle of the night Part 1 of 3 (pain, fever, confusion)
Informed consent/decisional making capacity/POLST
Recognition and management of arrhythmias
Teri Yaeger
101 W. 8th Ave.
Spokane, WA 99204
Medicine Grand Rounds/Osler Rounds (monthly)
Senior residents, as part of scholarly activity, are required to present an in-depth discussion on clinical manifestation, diagnostics and therapeutic management of a disease process in internal medicine.
Physical Exam conference (monthly)
We are dedicated to promoting a culture of bedside medicine. Similar to the Stanford 25 curriculum, the residents and medical students present/demonstrate common physical exam maneuvers and discuss its significance in disease process. Examples:
Gait abnormalities
Pulsus Paradoxus
Pleural effusion
Under the guidance of a faculty member, residents will perform and present critical appraisal of a journal article. Journal club has 2 objectives: First, to stay current with the latest evidence-based clinical information relevant to general internal medicine. Second, learn the basics of biostatistics, understand the methodology of clinical trials and accurately interpret applicability of research to your practice.
Case Presentations (twice/week)
Case presentations are case-based discussions led by attending physicians and senior residents with a focus on clinical reasoning, generating differential diagnoses and evidence-based-management. A 15-minute "clinical pearl" is usually presented prior to each case presentation.
Reviewing case management for both outpatient and inpatient care provides an important learning opportunity for all physicians. Residents and faculty present a case, then assist in dissection of decisions made. This opportunity for reflection establishes a life-long skill that all physicians need to continually critique patient care.
Senior residents choose questions from a bank of frequently missed In-Training exam questions. They model how to read and analyze a test questions and provide background information needed to dissect that test question and lead "the team" to the correct answer.
Other lecture series include Humanities and High Value Care.
Your residency starts here.

What are you waiting for?