Ultrasound workshop/Bedside Point-of-care Ultrasound curriculum: Our US workshop is offered at the beginning of the academic year and ongoing training is scheduled with residents in the simulation lab. The goal is for residents to become comfortable performing common bedside procedures using ultrasound guidance. In addition to using bedside ultrasound for therapeutic purposes, we have designed a bedside point-of-care US curriculum. We train residents to use bedside ultrasound to assist with real-time clinical decision making.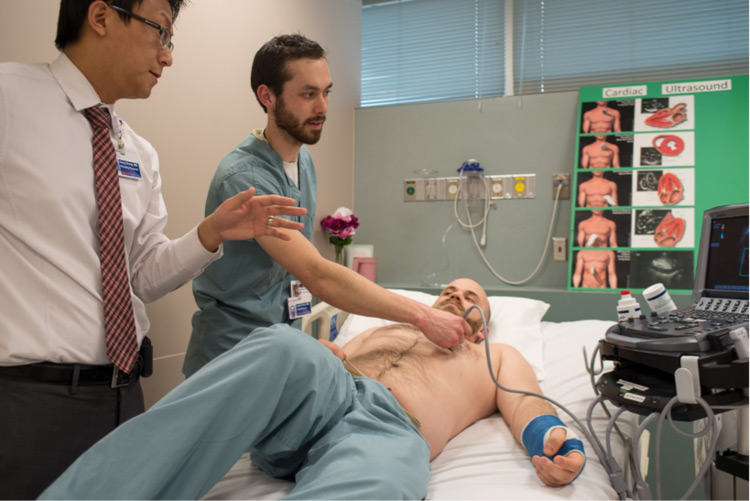 IMRS residents perform many procedures, usually with ultrasound guidance. Residents do not compete with fellows for the experience.
Residents generally obtain at least 20 central lines (although several residents have numbers in the hundreds). Other common procedures include arterial lines, paracentesis, thoracentesis and dialysis catheter placement.
"I was looking for hands on learning without fellows getting in the way so I could feel comfortable as a hospitalist. I ended up getting 50+ central lines and about 5-10 thoras, paras, and LPs my first year!"
Teri Yaeger
101 W. 8th Ave.
Spokane, WA 99204
The goal of the HIV clinic is to allow our Internal Medicine residents to develop skills needed for the primary care of HIV patients. The clinic works closely with Spokane Regional Health District, which refers patients to the residency for HIV management, STD evaluation, and treatment—as well as pre-exposure prophylaxis treatment of patients at risk for acquiring HIV. We currently follow approximately 150 HIV patients, with each IM resident caring for 3-7 of their own patients, under the supervision of a certified HIV specialist. The clinic offers interested residents weekly video conferences to discuss HIV cases with University of Washington specialists and other Pacific Northwest providers. Residents and faculty have utilized the opportunity to achieve a certificate of Added Qualifications in HIV Medicine.
The Hepatitis C clinic is a collaborative opportunity for both Internal Medicine and Family Medicine residents. Residents learn to evaluate referred patients with chronic Hepatitis C and to prepare them for treatment with new Direct Acting Antiviral medications. The clinic works closely with pharmacy residents and faculty in the outpatient pharmacy clinic at Providence Sacred Heart Medical Center, enabling a maximum amount of learning with a minimum of paperwork as residents follow patients throughout the treatment process.
Your residency starts here.

What are you waiting for?