Ultrasound workshop/Longitudinal Bedside Point-of-care Ultrasound curriculum: The introductory workshop takes place in the R1 year. In addition to the bedside POCUS curriculum, senior residents have opportunities to attend conferences and preset at regional/national POCUS workshops with faculty mentorship from our POCUS director, Dr. Kang Zhang.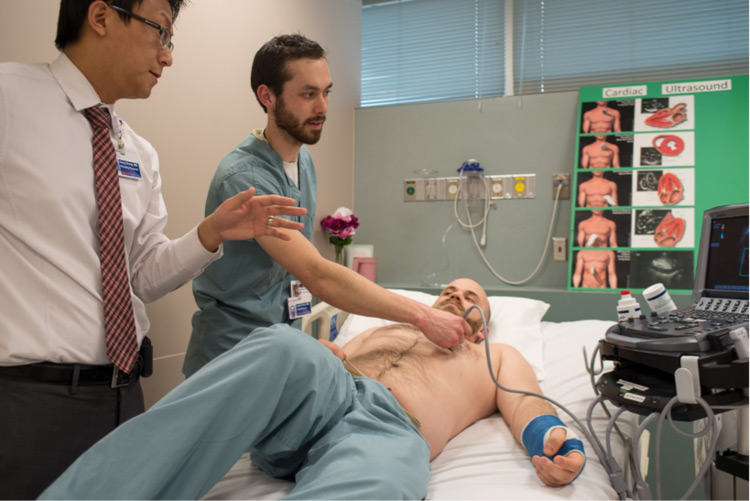 IMRS residents perform many procedures, usually with ultrasound guidance. Residents do not compete with fellows for the experience.
Residents generally obtain at least 20 central lines (although several residents have numbers in the hundreds). Other common procedures include arterial lines, paracentesis, thoracentesis and dialysis catheter placement.
"In my first year, I had over 90 procedures including central lines, arterial lines, chest tubes, paracenteses, thoracenteses and lumbar puctures."
Teri Yaeger
101 W. 8th Ave.
Spokane, WA 99204
Spokane Internal Medicine Residency prepares residents for future practice in managing HIV and related diseases by having residents participate in a developed, integrated HIV curriculum where people living with HIV are followed by residents as their primary care provider in the resident continuity clinic.  During each ambulatory block, residents will get 1:1 teaching with faculty who are HIV specialists on how to manage HIV patients in the outpatient setting while seeing patients in our HIV walk-in clinic.  Residents will have access to the UW National HIV Curriculum and the opportunity to discuss cases with UW HIV ECHO one afternoon per week.  No matter the setting of their future practice, we train graduating residents to provide high-quality medical care to persons currently living with HIV.
The Hepatitis C clinic is a collaborative opportunity for both Internal Medicine and Family Medicine residents. Residents learn to evaluate referred patients with chronic Hepatitis C and to prepare them for treatment with new direct acting antiviral medications. The clinic works closely with pharmacy residents and faculty in the outpatient pharmacy clinic at Providence Sacred Heart Medical Center, enabling a maximum amount of learning with a minimum of paperwork as residents follow patients throughout the treatment process.
Your residency starts here.

What are you waiting for?