Meet the Transitional Year Class of 2020-21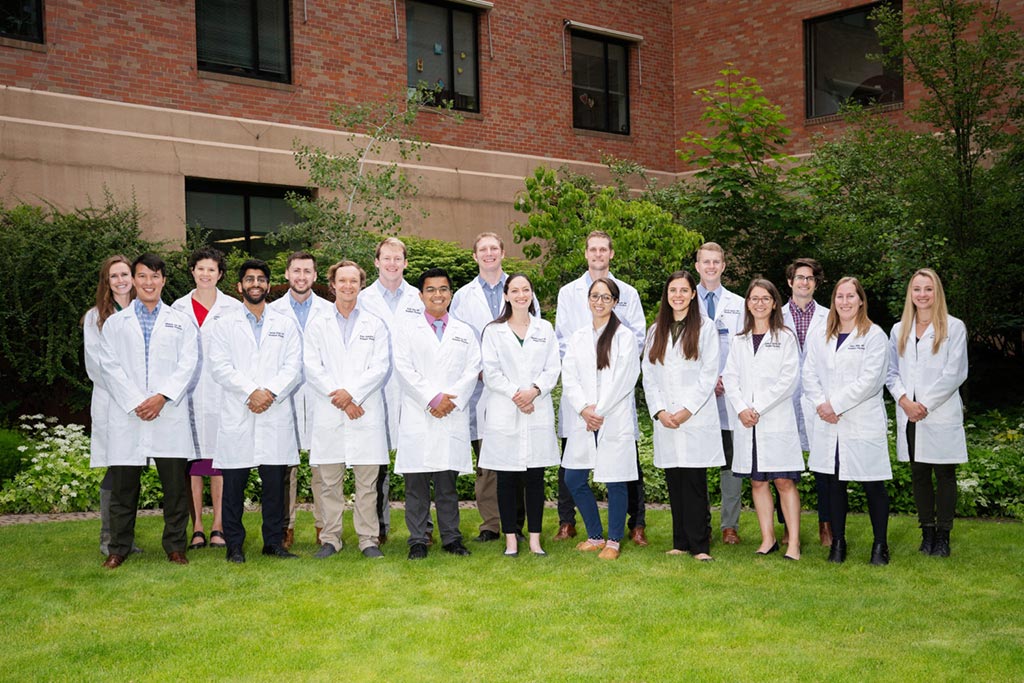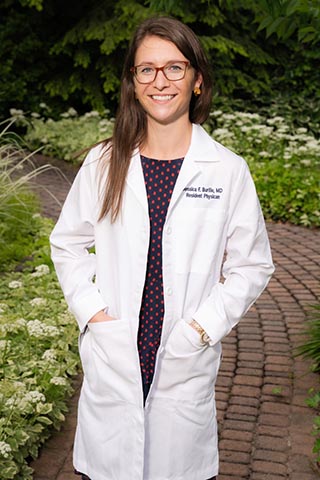 Jessica Burlile, MD
Georgetown Univeristy – Radiation Oncology
Jessica is from Boise, where she enjoyed running in the foothills and frequenting local coffee shops and eateries. She studied music at Gonzaga and Boise State, where she played mellophone in the pep band and taught music at Boise Rock School. She went to Washington, DC to study medicine and there discovered the physics-filled field of Radiation Oncology. Jessica is looking forward to finishing residency at Mayo Clinic and making snow angels in the wintertime. She also enjoys writing letters, playing golf, and daydreaming about rally driving. Jessica would like to complete a fellowship in Palliative Medicine after her military service commitment.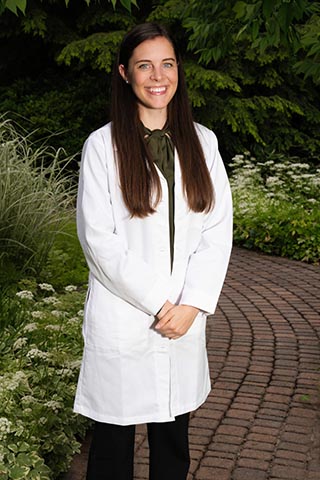 Rebecca Driessen, MD
Creighton University – Radiology
Rebecca grew up in Minneapolis and attended Creighton University School of Medicine. She grew up spending summers in northern Minnesota on the lake and is excited to be back in a place where the lake-life is integral to summer. If she's not swimming, boating, or hiking, she's likely trying to find adult-sized swings, seeking out live jazz, reading a cookbook, or painting with watercolors.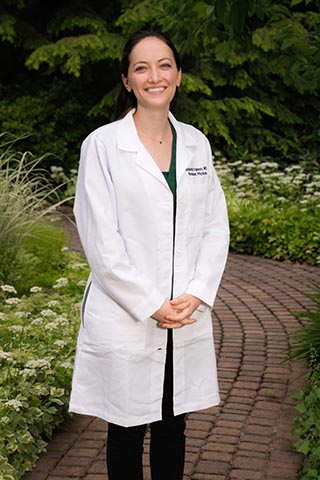 Elizabeth Fairless, MD
Yale – Ophthalmology
Libby is originally from Tulsa, Oklahoma. She attended Dartmouth College where she studied neuroscience and Native American studies. She received her MD from Yale School of Medicine. Libby will complete a residency in ophthalmology at the University of Oklahoma. She is passionate about reducing disparities in healthcare. In her free time she enjoys Do-It-Yourself projects, sewing, painting, and exploring the great outdoors – which makes Washington a great place to be!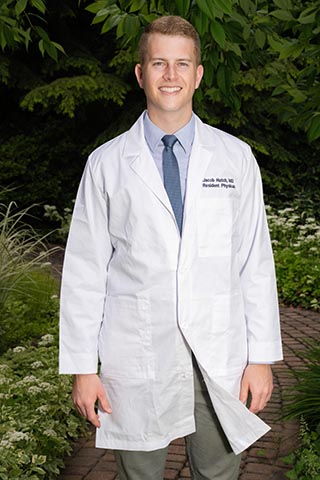 Jacob Hatch, MD
University of Texas – Anesthesia
Jacob is from Provo, Utah where he also studied molecular biology at Brigham Young University.  He served a two-year religious mission in Peru and speaks Spanish fluently. He has been married to the perfect woman, Megan for seven years and they are the proud/exhausted parents of two children.  He loves road and mountain biking, skiing, trips to Costco, exploring Spokane's many outdoor offerings, and eating candy. He went to medical school at University of Texas Health San Antonio and next year will start his anesthesiology residency at The University of Utah.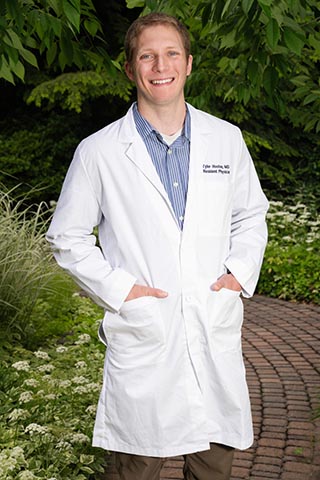 Tyler Hooton, MD
University of Washington – Dermatology
Tyler attended the University of Washington School of Medicine and is originally from Billings, Montana. He enjoys powerlifting, woodworking, and frisbee golf. He and his wife have three daughters to keep him busy outside of work.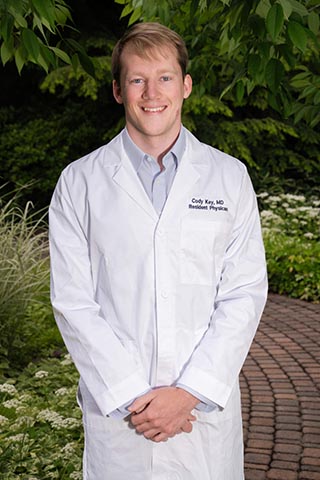 Cody Key, MD
Texas Tech – Interventional Radiology
Cody went to undergrad at the University of New Mexico in his home city of Albuquerque, NM and received his medical degree from Texas Tech University. He is excited for a change of scenery and to explore the Pacific Northwest for a year. He enjoys backpacking, climbing, canoeing, and just spending time in the pine trees. He's also looking forward to trying to survive his first real winter.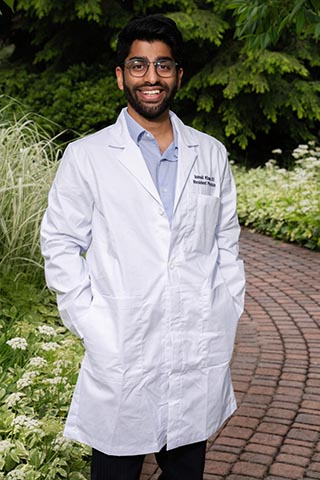 Ismail Khan, MD
Burrell College of Osteopathic Medicine– Radiology
Ismail is from Southern California where he graduated from University of California, Riverside. He attended medical school in New Mexico at The Burrell College of Osteopathic Medicine. When he's not in the hospital, you can find Ismail at the gym deadlifting, playing a blizzard RTS (wc3/sc2), enjoying one of the many sushi restaurants in Spokane or watching the latest Los Angeles Lakers/Dodgers games. Ismail is looking forward to exploring the PNW with his friends, family and co-residents and its many national forests, lakes and ski slopes.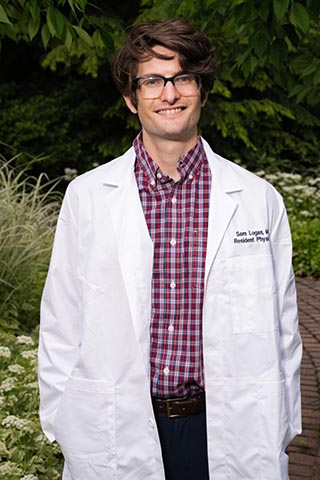 Samuel Logan, MD
University of Vermont – Dermatology
Sam is originally from Indiana and attended the University of Vermont College of Medicine. He is enjoying nature in the Pacific Northwest and is an avid runner and hiker. He can frequently be found cooking and loves trying new kitchen gadgets.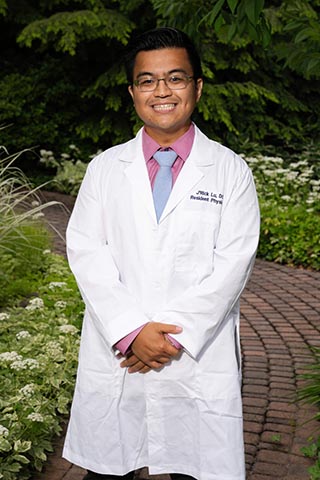 J'Rick Lu, DO
Midwestern College of Osteopathic Medicine – Radiology
J'Rick received his undergraduate degree in Biology at University of California San Diego and attended Chicago College of Osteopathic Medicine. He is as much a tech enthusiast as he is an outdoorsman and his hobbies include building computers, watching movies, running, hiking, snowboarding, biking, and seeking out the best coffee shops in the area. His current goal is to run a half marathon and to snowboard at many of the mountain resorts around Spokane.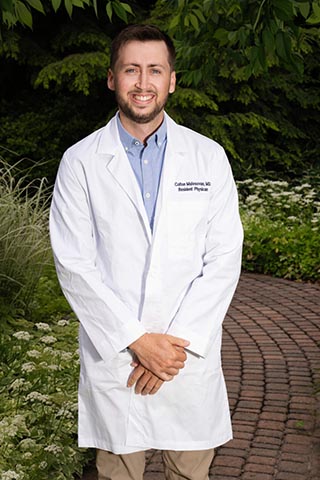 Colton Malesovas, MD
University of Texas – PM&R
Being from Austin Texas, Colton grew up in a city of music and learned to play the guitar in his teens. It's no wonder he was the winner of the McGovern Medical School Talent show with his staggering performance. He attended Whitman College in Walla Walla where he was a 3 time NCAA All-American Tennis athlete receiving a BA in Economics and returned to Texas for medical school at the University of Texas Houston. He has been a whitewater rafting guide and enjoys mountain biking, bouldering, camping and fishing and is thrilled to be back in the NW.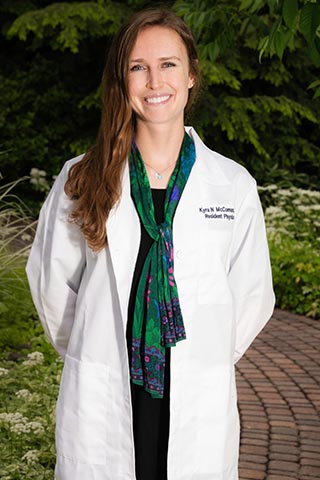 Kyra McComas, MD
University of Utah – Radiation Oncology
Kyra is a Utah native who completed her undergraduate degrees in Biochemistry & History at Santa Clara University, attend the University of Utah School of Medicine and will be completing her residency in Radiation Oncology at Vanderbilt University. A self-proclaimed vertical junkie, her heart lives in the mountains. Whether skiing, snowshoeing, hiking, biking, rafting, kayaking, camping, or even four-wheeling, when she has a day off, you can find her outside. She also enjoys sports, lifting weights, cooking, recipe-developing, cake-decorating, playing piano, reading, and traveling and unexpectedly fell in love with writing along the way. One of these days she might try sleeping too.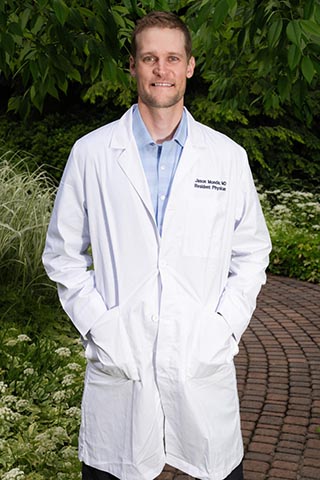 Jason Monda, MD
University of Washington – PM&R
Jason was born and raised in Olympia, WA. He received his undergraduate degree in Zoology at Washington State University where he was also a member of the baseball team. He attended medical school at the University of Washington School of Medicine (Spokane WWAMI site). In his free time he enjoys fishing/fly-fishing, hunting, backpacking/hiking, disc golf, playing basketball, and all things sports.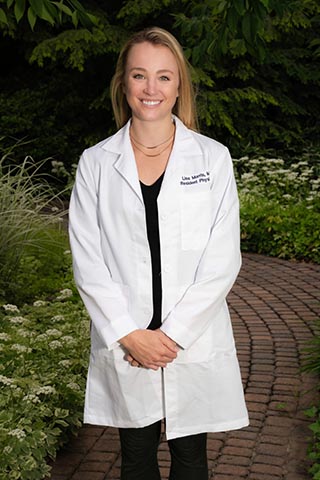 Lisa Morris, MD
University of Missouri – Dermatology
Lisa grew up in Missouri where she graduated from the University of Missouri with a degree in Biological Engineering and attended medical school at the University of Missouri-Columbia School of Medicine. Lisa and her husband spent the year prior to medical school living and working in Vail CO, Maine and Hawaii doing the things they love: snow skiing, jet skiing and water skiing, cliff jumping and perfecting their landscape photography. They have 3 dogs or children as pet owners refer to them and look forward to enjoying everything the Pacific Northwest has to offer.
Sarah Peterson, MD
Virginia Commonwealth – Radiology
Sarah is a first generation college graduate. She attended the University of Utah where she majored in mathematics and went on to earn her medical degree at Virginia Commonwealth University School of Medicine. She enjoys spending time with her husband, mountain biking, learning new skills, and lending a hand when able.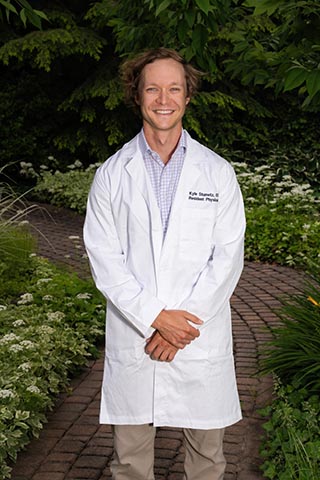 Kyle Stumetz, DO
PNWU College of Osteopathic Medicine – Radiology
Kyle was born and raised in Washington state and has had the pleasure of completing all of his academic training close to home. He attended Gonzaga University for his undergraduate education and Pacific Northwest University of Health Sciences for medical school. He is an avid triathlete and cyclist and has completed 3 Ironman events as well as multiple cycling stage races. He also loves rock climbing and backpacking in the summer and skiing in the winter. He is currently training for the Coeur d'Alene Full Ironman in 2021 in pursuit of qualifying for the KONA world championship.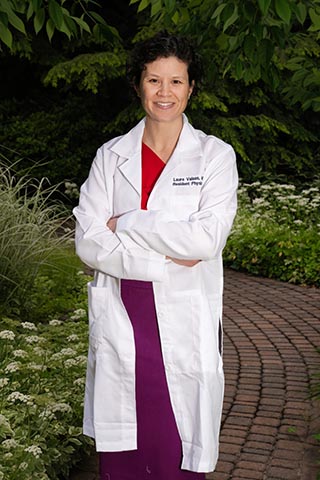 Laura Valaas, MD
University of Wisconsin – Dermatology
Laura is originally from Wenatchee, WA and competed for the US Ski Team before attending medical school at the University of Wisconsin in Madison, WI. While in Madison she picked up new hobbies such as aerial silks and yoga.  She is thrilled to be back in the Pacific Northwest with ample access to mountains for trail running, backpacking, skiing, and climbing. During her downtime she enjoys playing Minecraft with her 9 year old son or planning their next overseas adventure.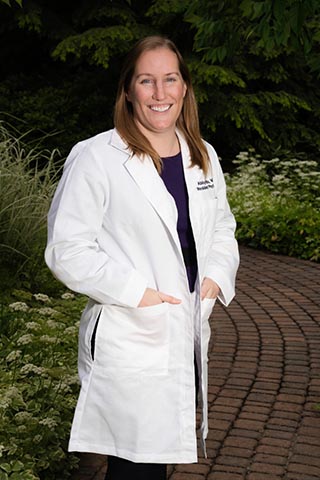 Abby Wills, MD
Oregon Health & Science University – Dermatology
Abby Wills received her undergraduate degree from Carleton College in Northfield, MN, where she spent four beautiful Midwest falls (and four brutal Midwest winters) playing competitive soccer. After spending a year teaching English in Toulouse, France, she returned to her hometown of Portland, OR and completed medical school at Oregon Health & Science University. When there isn't a pandemic throwing a wrench in all her plans, she enjoys participating in regular indoor and outdoor soccer matches, becoming insanely competitive while playing board games with her friends, and finding the best local spots to people-watch.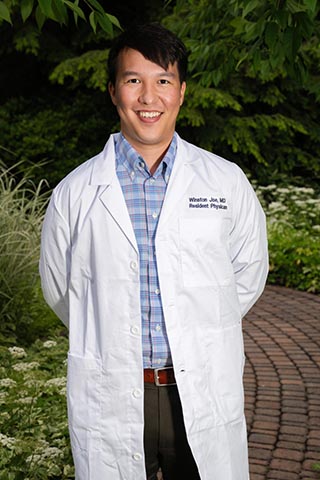 Joe Winston, MD
University of Alabama – Radiology
Winston was born and raised in Birmingham, Alabama. After graduating from Stanford University with a degree in Human Biology Winston returned to Birmingham for medical school at the University of Alabama at Birmingham School of Medicine. He's an avid runner who's traveled to 21 countries and finds his favorite way to explore new cities is when he's running through the streets exploring. Winston is thrilled to be living in the Pacific Northwest with abundant access to skiing and biking. When not enjoying the outdoors Winston spends his time cooking, writing, traveling, watching Alabama football, and relaxing with his fiancé and their kitten, Pluto.