Family Medicine – Curriculum
Family Medicine
Spokane Training Track
Our commitment to our residents is to provide a comprehensive educational experience. We remain committed to this mission and have adapted our curriculum to prepare our graduates for not only the cognitive, but also the procedural demands of the well-trained contemporary family physician.
Intro to Family Medicine (4 weeks)
Outpatient Pediatrics and Specialty clinics (4 weeks)
Emergency Medicine (2 weeks Adult and 2 weeks Pediatric)
Family Medicine Hospital Service (8 weeks)
Health Systems Management (4 weeks)
Inpatient Pediatrics (8 weeks)
Gynecology + Clinic (4 weeks)
Obstetrics (8 weeks)
ICU (4 weeks)
Surgery (4 weeks)
Outpatient Pediatrics (4 weeks)
Electives (12-16 weeks)
Family Medicine Outpatient (14 weeks)
Family Medicine Hospital Services (6 weeks)
Obstetrics (4-8 weeks)
Orthopedics/Sports Medicine (4 weeks)
Geriatrics (4 weeks)
Gynecology + Clinic (4 weeks)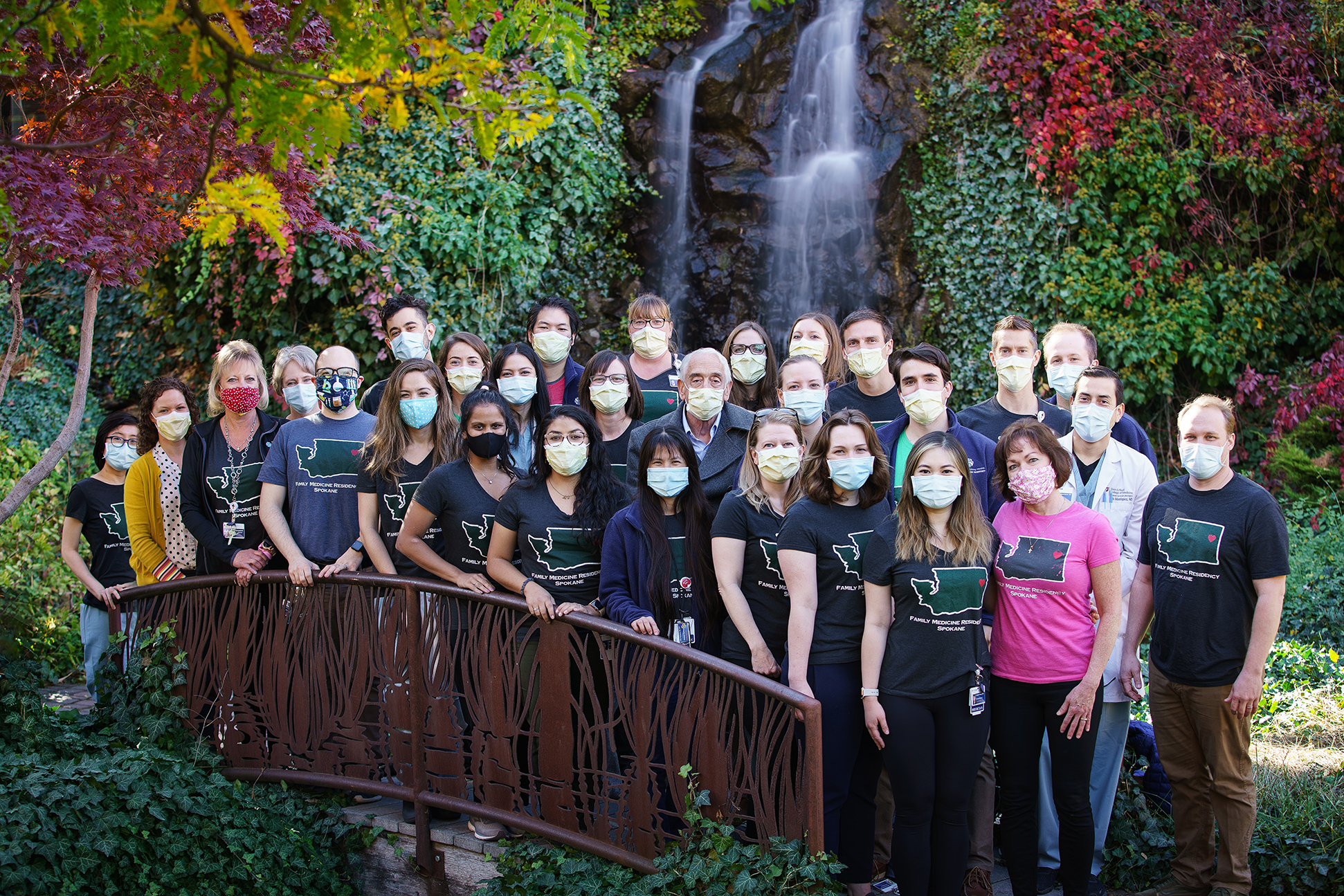 Outpatient Cardiology (4 weeks)
Emergency Medicine (4 weeks)
Family Medicine Outpatient (8 weeks)
Family Medicine Hospital Services (12 weeks)
Inpatient Pediatrics (4 weeks)
Obstetrics (4-8 weeks)
Orthopedics/Sports Medicines (4 weeks)
Rural Clerkship (4 weeks)
VA Procedures/Surgery (4 weeks)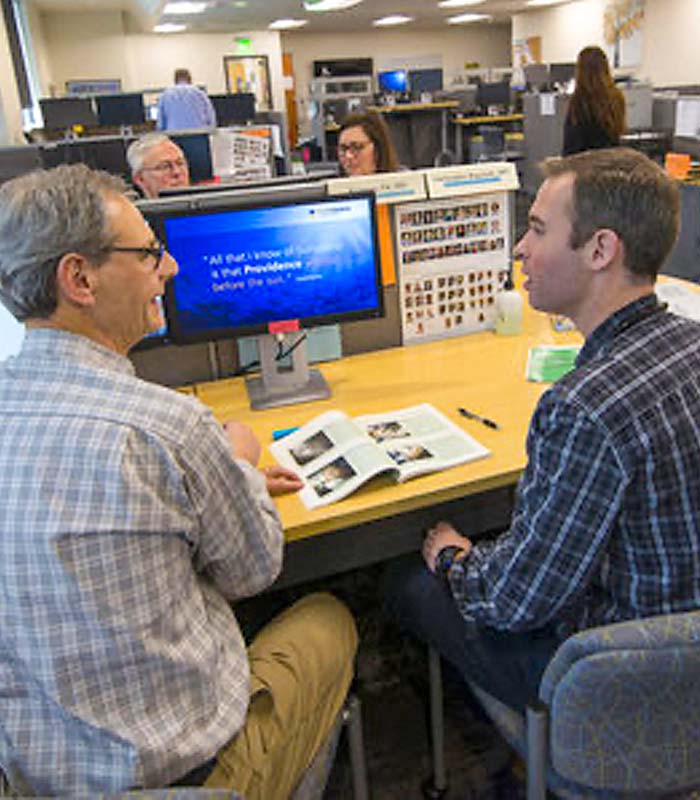 Introduction To Family Medicine
(Only for First-Year Residents)
This is the first month of residency for all interns. The first four weeks are spent rotating through the clinic, inpatient service, and OB service. The goal is to familiarize each intern with the core rotations and the EMR (Epic). Interns will learn the logistics of doing inpatient admissions, discharges, and transfers. On Labor and Delivery, they will be introduced to the unique needs of laboring, postpartum, and antepartum patients. In the clinic, they will begin to learn the flow of outpatient medicine while establishing a patient panel and becoming familiar with clinic policies and procedures. The daily schedule varies depending on the service.
In addition to Introduction to Family Medicine in the R1 year, there are two to three and a half four-week block rotations each year of R2 and R3 focusing on the ambulatory care setting and simulating a full-time clinic practice. Residents will concentrate on their own continuity clinics while gaining additional experience in specialty clinics. They will have additional training in procedures including IUD placement and removal, Nexplanon placement and removal, colposcopy, circumcision, and skin lesion removal. Residents will be available for same-day appointments to further gain experience in acute patient complaints. During this rotation, home visits and nursing home visits are also scheduled. The schedule is Monday-Friday with standard business hours and no call.
Four weeks are spent working with local cardiologists in their outpatient clinics. Residents evaluate new patients and follow-up on prior consults. They have opportunities to observe and learn the interpretation of exercise and nuclear stress tests as well as echocardiograms. This serves a valuable opportunity for residents to hone their EKG interpretation skills. Through this rotation, residents gain a better understanding of acute and chronic cardiac conditions. The schedule is Monday-Friday with standard business hours and no call.
Residents in their R1 year spend one month at Providence Sacred Heart Medical Center, a Level 2 Trauma Center that serves a large portion of the Inland Northwest. Residents complete 18 shifts divided between the pediatric and adult ERs, with one day per week of continuity patient care in the clinic. Second-year residents rotate at the nearby Deaconess Hospital. There, residents complete 15 shifts in the adult ER with one day per week in clinic. During these rotations, residents learn how to stabilize the acutely ill patient while gaining hands-on experience in procedures such as suturing, reducing fractures and dislocations, and intubations. The schedule is variable with the resident working several different shifts for varied experiences.
Three to four months of the R3 year are electives. This time may be used to pursue a wide range of medical and surgical interests. All electives are subject to faculty approval. Previous electives have included a variety of subspecialty rotations, international rotations, additional rural rotations, procedural rotations, and research. Residents on the OB track use one month in each of their R2 and R3 years for additional OB training. For each non-OB elective, the resident spends half of their time in their continuity clinic and half at the elective. The schedule is variable but is generally Monday-Friday with standard business hours and no call.
For four weeks during their R1 year, residents work with general surgeons in the community and at Sacred Heart Medical Center. The focus is on inpatient management of postsurgical patients, assisting in the OR, postoperative care, and outpatient surgical management. The schedule is variable but is generally Monday-Friday with standard business hours and no call.
Health Systems Management (HSM)
Interns spend four weeks rotating through community clinics, learning about different models of care. Clinics include House of Charity and Street Medicine, Native Project, Unify, the Spokane Regional Health District, and Maternity Clinic — these care for homeless, Native American, English as a second language, addiction recovery, and underserved pregnant patients respectively. Residents choose a community clinic to continue visiting in their second and third years. This rotation also provides focused training in motivational interviewing in collaboration with our psychiatry team. The schedule is Monday-Friday with standard business hours and no call.
Second-year residents spend four weeks at the Spokane VA hospital focusing on common clinic procedures including skin biopsies, excisions, incision and drainage of abscesses, toenail removals, and wound care. The schedule is Monday-Friday with standard business hours and no call.
Gynecology and women's health are taught as a combination of rotation time, longitudinal care, and online learning materials. The gynecology rotation occurs in two 2-week blocks, one in the first year and one in the third year of residency and is spent with local gynecologists and subspecialists. Residents also see gynecology patients in the continuity clinic and rural rotations and have ample opportunity to learn office gyn procedures including IUD's, Nexplanon, endometrial biopsy, colposcopy and LEEP surgery.
Residents rotate in obstetrics in all three years with an increasing level of responsibility. Interns are expected to complete two months of obstetrics. As seniors, they may choose to pursue an OB track, consisting of four months split between the R2 and R3 years. The minimum total OB requirement is four months. In addition to their own continuity patients, residents care for patients of community obstetricians and family physicians. Additionally, residents assist in caring for high risk patients of the OB hospitalists and perinatologists. Our OB fellowship serves to further support the experience. Call is shared either day or night on 12-hour shifts. All residents gain a robust experience in operative and non-operative obstetrics. Each resident is involved with approximately 60 to 80 deliveries per year.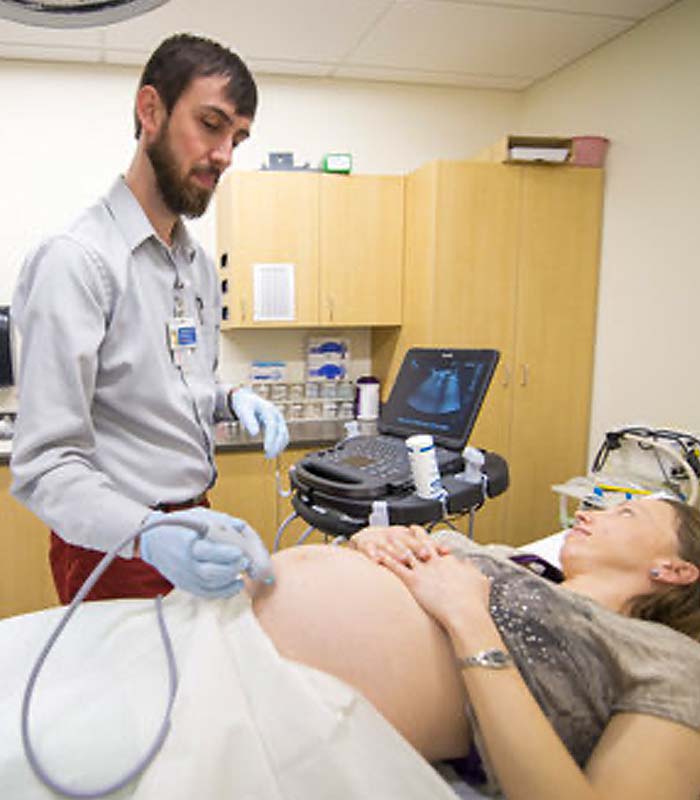 Inpatient and Outpatient Pediatrics
Inpatient Pediatrics training takes place at Sacred Heart Children's Hospital, which serves as the pediatric referral center for the Inland Northwest. Residents work directly with pediatric hospitalists for 8 weeks during their intern year and 4 weeks during their R2 year. The pediatrics' team is composed primarily of family medicine residents. Transitional and psychiatry interns may also participate on the team. In addition to daily teaching rounds, didactics are provided during the rotation. Family medicine residents typically have one full day of continuity clinic each week. Each resident on the team will typically provide night coverage for 5-6 nights during each rotation. Outpatient pediatric experience is provided through pediatric clinic visits during the resident's continuity clinic as well as 8 weeks of dedicated outpatient pediatric experience, 4 weeks each during the intern and R3 year. Time is dedicated to general outpatient pediatrics, with an emphasis on newborn rounding, developmental assessment, adolescent medicine, eating disorders, ADHD and learning disabilities.
To stimulate interest and acquaint residents with the needs of rural communities, R2s complete a rotation at the Rural Training Track site in Colville, Washington. Residents gain experience in rural hospital medicine, emergency medicine, obstetrics, and outpatient clinical medicine in the rural setting.
Musculoskeletal/Sports Medicine
Supervised by primary care sports medicine physicians and orthopedic physicians, residents will gain experience in evaluation and management of common musculoskeletal conditions, fracture care, pediatric musculoskeletal issues, as well as exposure to physical therapy. Residents will participate in the FMRS Musculoskeletal Clinic as well as training room experience working with athletic trainers at Gonzaga University. Opportunities for pre-participation exams and high school side-line sports medicine exist as well.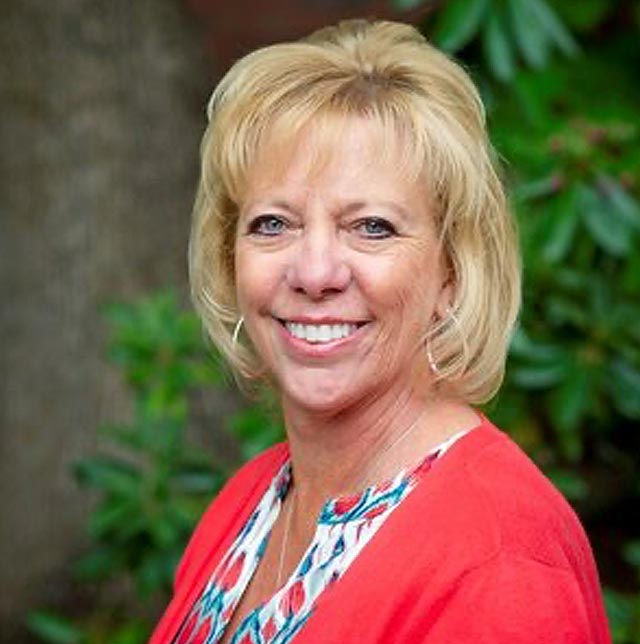 Program Coordinator
Family Medicine Residency
Rural Training Track Residency
Sports Medicine Fellowship
OB Fellowship
624 E. Front Avenue
Spokane, WA  99202
Phone: 509-626-9900
Your residency starts here.

What are you waiting for?